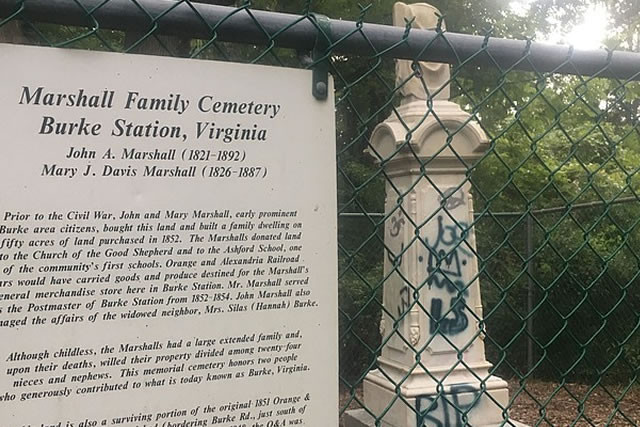 The Connection
By Mike Salmon
August 16, 2018
Remains of Burke residents lie in the historic cemetery that is now marred with spray paint.
Burke — Prominent Burke founders John and Mary Marshall helped form the town of Burke, witnessed Civil War activity around the area and made their mark on the community. But vandals found their cemetery in the central wooded section of Burke, and left a mark on the memorial with orange spray paint.
John Marshall owned a general store in Burke and was the postmaster from 1852 to 1854, later managing the affairs of Mrs. Silas Burke, the sign on the cemetery states.
Upon discovery of this vandalism, an individual reported it in person to the Fairfax County Police Department, but when they tried to get her name, she was nowhere to be found. Then on Aug. 9 an officer visited the site and ran into a person who is taking care of the cemetery. There was a conversation, according to officer Michael Cole, a Fairfax County Police Department compliance manager, and they discussed cleaning the monument or coating it with a substance that would make graffiti easier to remove but the conversation did not go further than that. The official word is "it's under investigation," Cole said.
According to the police, vandalizing a cemetery is a Class 6 felony. Virginia law 18.2-127. "Any person who willfully or maliciously destroys, mutilates, defaces, injures, or removes any object or structure permanently attached or affixed within any church or on church property, any tomb, monument, gravestone, or other structure placed within any cemetery, graveyard, or place of burial, or within any lot belonging to any memorial or monumental association, or any fence, railing, or other work for the protection or ornament of any tomb, monument, gravestone, or other structure aforesaid, or of any cemetery lot within any cemetery is guilty of a Class 6 felony. A person convicted under this section who is required to pay restitution by the court shall be required to pay restitution to the church, if the property damaged is property of the church, or to the owner of a cemetery, if the property damaged is located within such cemetery regardless of whether the property damaged is owned by the cemetery or by another person."
Mary Lipsey, the head of the Fairfax County Cemetery Preservation Association, brought this vandalism to the attention of Pat Herrity, the Springfield District Supervisor. "I was saddened to hear about the vandalism of the historic cemetery and Fairfax County is doing what it can to catch the vandal," Herrity said.
An inquiry was made to the Burke Historical Society but they have not responded, although their website does mention the cemetery and the vandalism as well. "John and Mary Marshall, prominent 19th century citizens of Burke, are buried in this cemetery. Mr. Marshall owned a general merchandise store, and served as the postmaster of Burke's Station. Unfortunately, the cemetery has been vandalized," reads the website entry.