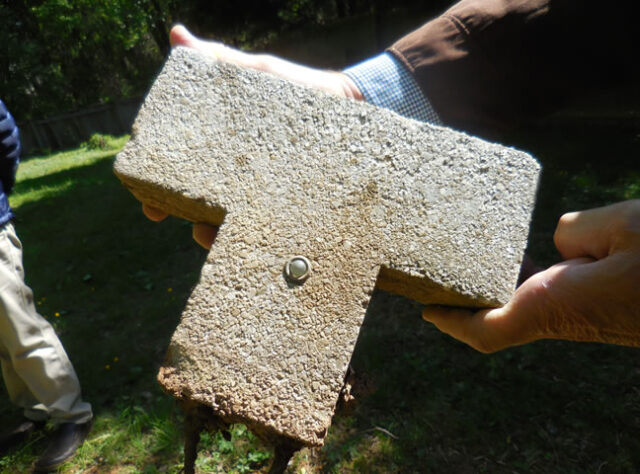 Fairfax County Public library record as of May 2021
1011 Seneca Rd.
Great Falls, Va.
FX290
The cemetery is located about 100′ north of the house. Dogwood trees line the north, west, and south sides of the 30'x 60′ plot. Periwinkle is growing under the trees and on some graves. There are 12 clearly discernable grave depressions, four of which are marked by sunken fieldstones. 1994 Survey
GPS Coordinates
Class: Cemetery
County: Fairfax County
Latitude: 39.0025472
Longitude: -77.3430576
GNIS ID: 2776713
Owner
Current information – as of May 202l – a buildable lot with delineated cemetery is up for sale, with the address 1002 Sherman Court Great Falls VA 22066
Lot description – Opportunity to own 1.08 acres in sought after Great Falls, situated in highly convenient location. Finished building lot, ready for your new home. This property has access to public sewer, water, and natural gas. Proffers exist. Several burial plots located on lot, access to be maintained. Fence, trail improvement, and Historic Marker required. Tree preservation plan, Garage orientation restriction.
Date Surveyed May 1. 2021
History of family African American community family cemetery
Approximately 12 graves there with only one clearly marked gravestone.-
John Lambert—1891-1955
Research indicates that several Ellis family members are presumed buried here.
Pery Ellis, Allis Ellis, Solomon Ellis, Lettie Ford Ellis, and. Eliza Ellis.
Condition of cemetery and gravestone markers
There are several graves marked by field stones or concrete markers. The grounds are regularly mowed. There are artificial flowers at some of the graves. There is parking on the shoulder, but the cemetery is not visible from the street because of the tree line next to the fence.
Find A Grave Link – NONE
Suggestions The fence needs repair. The path to the cemetery could be widened for easier access.
Notable persons or markers
Other
Virginia Department of Historic Resources
Archaeological Site Report- 2008 Survey
8 depressions, nine stone markers
Five appear to be adult, possibly three children
Informant Joseph Ford
Joseph Ford and his daughter Lettie Ford Ellis owned property 1878-1928
1928 George Ellis bought property from Ettie Ellis.
In 1994 one heir of George Ellis included Claude Ellis.