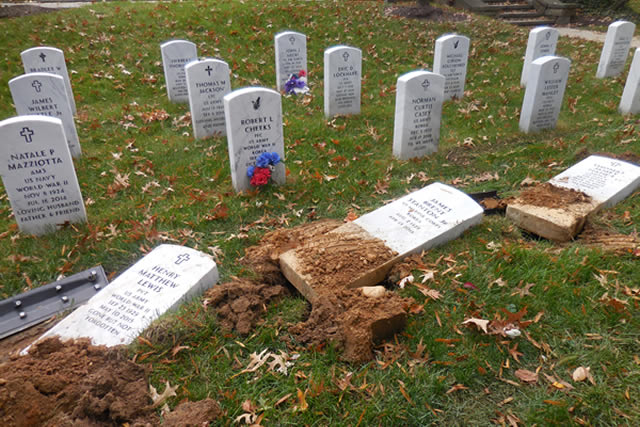 Old Town Alexandria Patch
By Emily Leayman
November 6, 2017
Veteran grave stones were damaged in Alexandria National Cemetery one week before Veterans Day.
ALEXANDRIA, VA—About a week before Veterans Day weekend, veterans' gravestones were found damaged after a car crash in Alexandria National Cemetery.
Mary Lipsey, part of the Fairfax County Cemetery Preservation Association shared pictures via Facebook of the scene. Alexandria's Veterans of Foreign Wars Post 609 says six were torn out of the ground and one was hit by tires near the gate at the entrance. Lipsey said the car remained on scene with the keys in the ignition and called the incident "senseless and hurtful disrespect."
Alexandria Police, the National Cemetery Authority and the Department of Veterans Affairs Police were notified and are investigating. It is unclear if the incident was accidental.
Dog walkers had discovered the scene shortly before the Fairfax County Cemetery Preservation Association had scheduled tour of the cemetery, according to Lipsey. The group holds tours of area cemeteries and was set to visit Alexandria National Cemetery Saturday (1450 Wilkes Street), Nov. 4 from 10 a.m.-2 p.m.
The group formed in 2008 after a spray painted grave marker was found at a cemetery in Burke. Its mission is to "identify, document, preserve, protect, maintain and advocate for cemeteries in our county that are threatened by development, vandalism or neglect," according to its website.
Alexandria National Cemetery is one of the original national cemeteries established in 1862. It joined the National Register of Historic Places in 1995.