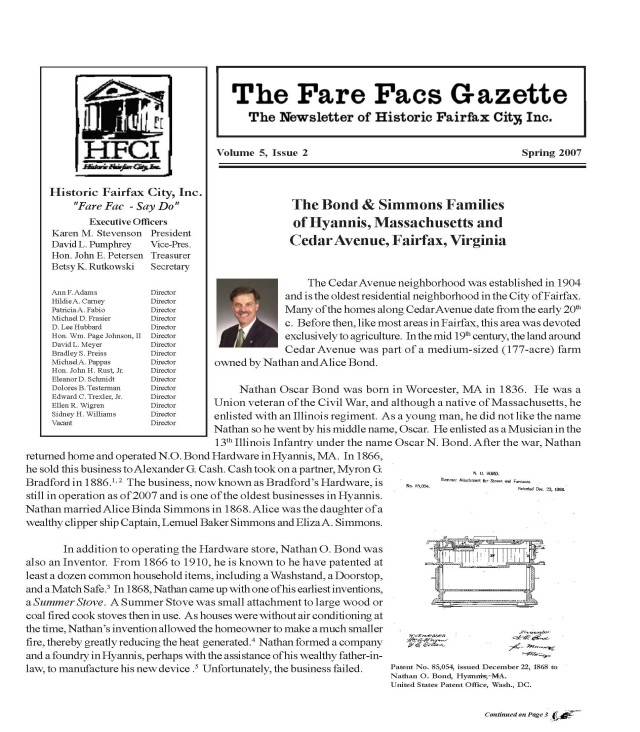 Nathan Oscar Bond
Born Unknown
Died October 16th, 1914
Place of Birth: Worcester, MA
Place of Death: Hyannis, MA
Buried: Oak Grove Cemetery, Hyannis, MA
How Died: Heart failure
Military service: Union Army
Units: 13th Illinois infantry
Biography
Nathan Oscar Bond was born in Worcester, MA in 1836. He was a Union veteran of the Civil War, and he enlisted with an Illinois regiment. As a young man, he did not like the name Nathan so he went by his middle name, Oscar. He enlisted as a Musician in the 13th Illinois Infantry under the name Oscar N. Bond. After the war, Nathan returned home and operated N.O. Bond Hardware in Hyannis, MA. In 1866, he sold this business to Alexander G. Cash. The business, now known as Bradford's Hardware, is still in operation as of 2007 and is one of the oldest businesses in Hyannis. Nathan married Alice Binda Simmons in 1868. In November 1869,they moved to Fairfax and purchased 177-acres of land along Chain Bridge Road.
Nathan was an avid farmer and inventor. He designed his most ambitious patent – a Wave Power Machine, while he was in Fairfax. This device harnessed the wave action of the Atlantic Ocean to pump water onto the dusty streets of Ocean Grove, NJ. In 1889, Nathan formed the Bond Wave and Tide Force Company and installed his machine under the pier at Ocean Grove, NJ, where his invention appeared on the cover of the Scientific American magazine. Unfortunately, in 1893, a series of Atlantic storms wrecked the pier and his invention, causing the company to go out of business.
Nathan's health began to fail about 1912. That year, he applied for and received a pension for his brief service during the Civil War. He died of heart failure in 1914, and Alice Bond died in 1923. Both are buried in Oak Grove Cemetery, Hyannis, MA.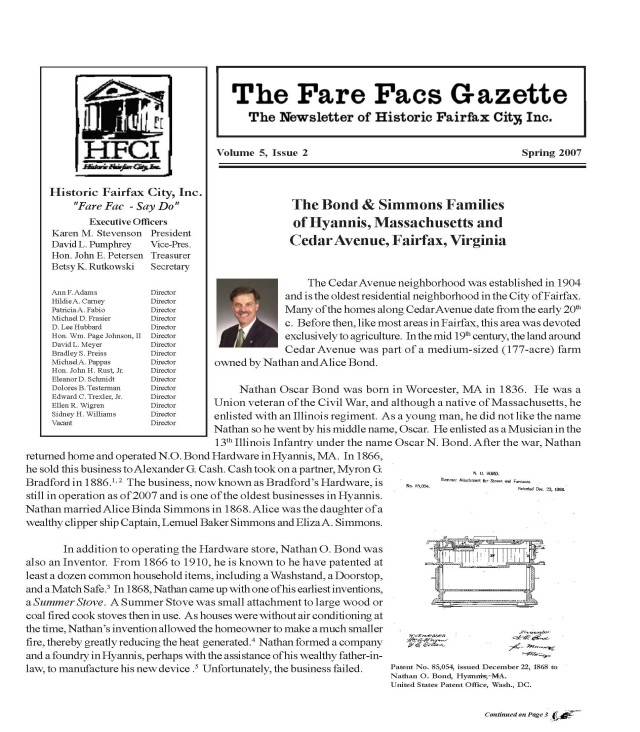 Sources:
Fairfax Herald, October 23, 1914, p. 3; Obit. of Nathan O. Bond
Brothers and Cousins: Confederate Soldiers and Sailors of Fairfax County, Virginia, compiled by William Page Johnson, II