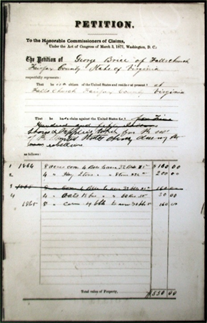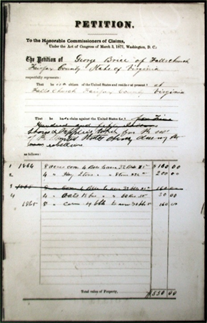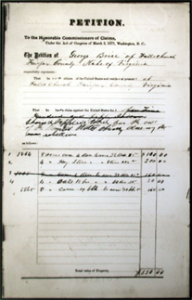 George Brice
Born 1836
Died unknown
Place of birth: Falls Church, VA
Place of death: unknown
Buried: Galloway Methodist Cemetery, Falls Church, VA
How died: Unknown
Military service: United States Colored Troops
Units: 6th Infantry
Bibliography:
George Brice Grew up on Hairfax Street in Falls Church, Virginia. He did not attend school, and not much else was known about his childhood. There were rumors that he was blind, but this has not been confirmed.
George did not escape slavery until 1861 when he fled to Union lines. In 1863, he joined the 6th Infantry, United States Colored Troops.
Later during the war, George Brice returned to Falls Church and farmed this land as well as the property of absentee landowners in exchange for a portion of what he grew. Like most farmers in the area, the Brices suffered losses when Union troops camped in their fields. In 1871, he and his wife (of 50 years by the time he died) Harriet Brice, filed a claim with the U.S. government for reimbursement for damages. Their claim was approved.
George and Harriet Brice helped buy land for the Galloway United Methodist Church in 1867. The very first services were held in the home of Harriet and George Brice until the first log building was erected for services and Sunday school. and are buried in the graveyard. Their descendants have continued to live on their property and attend the church.
Sources:
1910; Census Place: Falls Church, Fairfax, Virginia; Roll: T624_1628; Page: 8B; Enumeration District: 0032; FHL microfilm: 1375641
Ancestry.com. 1910 United States Federal Census [database on-line]. Lehi, UT, USA: Ancestry.com Operations Inc, 2006.