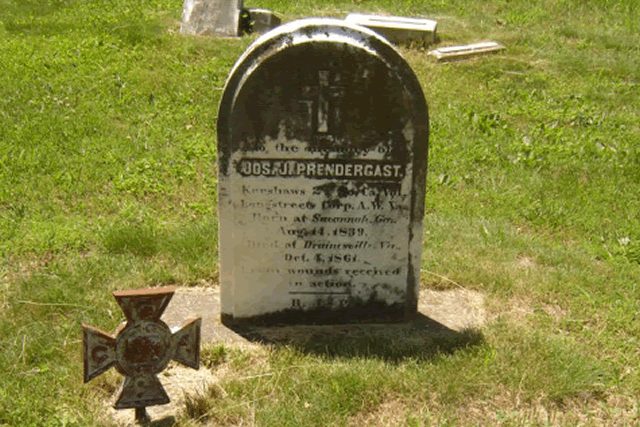 Born August 14, 1839
Died October 4, 1861
Place of Birth: Savannah, Georgia
Buried: Place uncertain
How Died: Cause uncertain
Military Service: Confederacy
Military Rank Held: Private
Unit: Kershaw's 2nd South Carolina Volunteers
Battles/engagements: Uncertain
Private Joseph J. Prendergast was born August 14, 1839 in Savannah, Georgia. He enlisted with Kershaw's 2nd South Carolina Volunteers. Perhaps he was one of the many eager Southerners who enlisted with South Carolina, shortly after it seceded from the Union. A flag by one Joseph Prendergast was raised at a rally in Savannah, Georgia. It bore a snake and the words, "Don't Tread On Me." Subsequently it was labeled as "The First Flag on Independence Raised in the South"(1), November 8, 1860, which was two days after the election of President Abraham Lincoln.
Several mysteries surround the death of Confederate Jos. J. Prendergast. He was wounded in action at Dranesville and died October 4, 1861 at Dr. Day's home, which is near the Dranesville United Methodist Church. Accounts differ as to which Dr. Day, as there were two brothers, Dr. John Day and Dr. William Day, who both lived nearby.
Prendergast's gravestone states that he died in October 4, 1861, yet historians state that he died at the Battle of Dranesville, which occurred in December of 1861. Kershaw's 2nd South Carolina Volunteer Infantry was engaged at a skirmish at nearby Lewinsville on September 25, 1861. There are no records that they participated in the Battle of Dranesville. A battle map drawn shortly after the battle indicates that the 5th South Carolina, not the 2nd participated.(2) Official Records (OR) state that it was the 6th South Carolina volunteers. What is known for sure is that Prendergast's epitaph states he died "at Dranesville, Va." It does not include the word "battle."
Before dying, Prendergast gave his home address to Dr. Day, asked him to put a stone at his marker, and alert his family of its location. Dr. Day had Prendergast buried at the Dranesville United Methodist Church Cemetery, erected a stone and informed his family. Later historical accounts differ greatly. One states that after the war his mother sent a slip of a rose to be planted at the grave site.(3) A recent county report questions earlier church history which stated that the family visited the grave and took Prendergast's body home, leaving the grave marker.(4) The questions remain: when did Prendergast die and is he still buried at the cemetery?
Footnotes:
(1) A Pictorial History of the Confederacy by John Chandler Griffin p. 7
(2) http://www.civilwar.org/battlefields/dranesville/dranesville-maps/battle-at-dranesville-va.html
(3) Dranesville Methodism by Margaret Lail Hopkins
(4) Ergotec Association, Inc report submitted to County DPZ July 2001
Photo of Prendergast's gravemarker at Dranesville United Methodist Church Cemetery
Researched and written by Mary Lipsey and Donna Roy