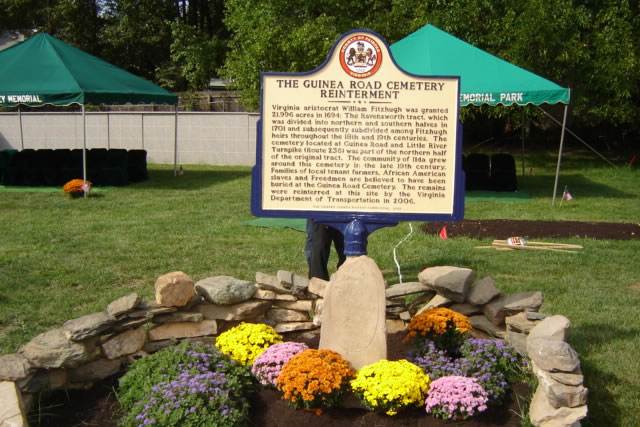 The cemetery was located at the intersection of Guinea Road and Little River Turnpike (Route 236). In the 1860s, Horace Gibson and Moses Parker, freed black slaves, had purchased land near the intersection of today's Prosperity Avenue and Little River Turnpike. Together they owned and operated a blacksmith shop there. Oral tradition related that children of the Gibson and Parker families were buried in the cemetery at Guinea Road. Before suburban development arrived, neighbors recalled seeing many grave markers at the cemetery.
When VDOT made plans to widen the road at the location of the cemetery, public notice was given in newspapers and at the cemetery site. A Gibson descendant stepped forward as family representative to protect those buried there. Archaeologists of the Louis Berger Group, Inc. conducted two excavations at the cemetery. Just under forty sets of remains were dis-interred, including children and male and female adults. During excavation only one tombstone was found, inscribed "S.A.Williams". The Louis Berger findings described that those buried were comparable to other black burial sites and that at least one set of remains was identified as African American. All of the remains showed evidence of dental disease, poor nutrition, arthritis and muscular stress believed to be associated with hard physical labor. No intact coffins were found, although many coffin-related items were located ( nails, handles and coffin lining).
Church and Gibson/Parker family-sponsored programs were held in the fall of 2006 when the majority of remains were re-interred at Pleasant Valley Memorial Park. A grave side service was held when the second set of remains from the second excavation were re-interred.
Photos of Guinea Road (Gibson/Parker Family) Cemetery
County Survey Record
More information at A Look Back At Braddock District website: