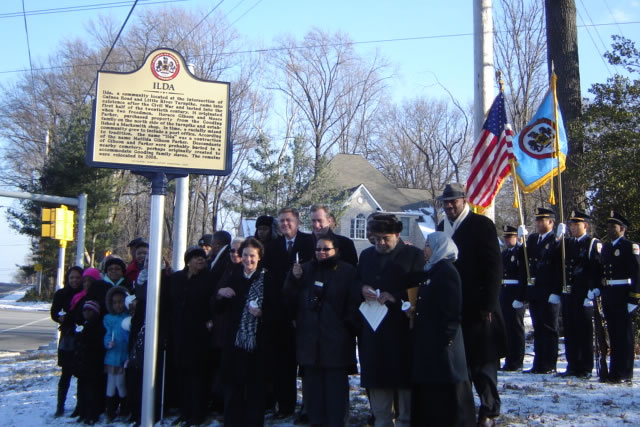 On Sunday, December 19, 2010, community and family members gathered to dedicate the Ilda historical marker near the intersection of Little River Turnpike and Guinea Road in Annandale.
The story began in the heart of suburbia when an "old graveyard" was threatened because of road construction. In 2004, the Virginia Department of Transportation (VDOT) erected a sign at the cemetery site asking if anyone could provide information about those who were buried in the cemetery. Dennis Howard of Springfield informed VDOT that some of his forebears were buried there. Dennis Howard's family can be traced back to Ilda, a community on Little River Turnpike and to Horace Gibson and Moses Parker who settled and operated a blacksmith shop nearby. Howard's family records state that there were three Gibson and three Parker children buried in the cemetery. Gibson and Parker, originally slaves on plantations in Culpeper, moved to Fairfax County as freedmen, purchased property and prospered. Mr. Howard and a cousin, Hareem Badil-Abish, had independently researched their family story. Hareem had written a manuscript, Shades of Gray, which described the cousins' family's life in Fairfax County. Hareem Badil-Abish wrote that his family's story would "add another piece to Life's Puzzle. Our family's rich past is something to be proud of." After his cousin's death, Dennis Howard continued researching and preserving their family's history. Mr. Howard realized that some of the secrets of the puzzle were locked away with those buried at the Guinea Road Cemetery. His goal became to honor, respect and remember those who were buried there.
Prior to road construction, an archeological survey of the cemetery was conducted by the Louis Berger Group, Inc. The archeologists study indicated that there were over thirty burials in the cemetery of which fifteen were children, eleven adult females, and six adult males. Each showed evidence of African American ancestry. In addition, it was learned that those buried there were malnourished, had experienced hard physical labor, and had poor dental hygiene. Most of the coffins were made of pine and hexagonal in shape. Artifacts, buttons and coffin hardware from the time period of 1840s-1870s, were reinterred with the remains at Pleasant Valley Memorial Cemetery on Little River Turnpike.
A program was held at The Jewish Community Center of Northern Virginia, followed by the unveiling of the sign located near the site of the original cemetery. The text of the sign reads:
Ilda, a community located at the intersection of Guinea Road and Little River Turnpike, came into existence after the Civil War and lasted into the first half of the twentieth century. It originated when two freedmen, Horace Gibson and Moses Parker, purchased property from the Gooding family on the north side of the turnpike and established a blacksmith shop. In time, a racially mixed community grew to include a post office. According to tradition, the name "Ilda" was a contraction of the name Matilda Gibson Parker. Descendants of Gibson and Parker were probably buried in a nearby cemetery, perhaps originally created to accommodate Gooding family slaves. The remains were relocated in 2008.
Photos of Ilda sign dedication
Louis Berger Group final report for VDOT Archeological Investigation Report: Guinea Road Cemetery at A Look Back at Braddock website.