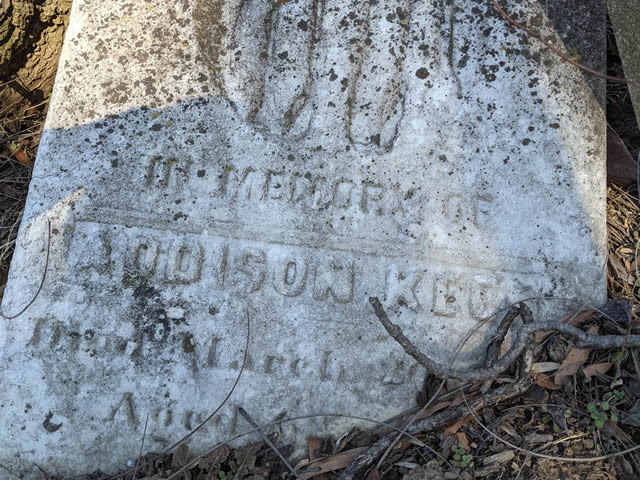 You can easily drive to this and you can see it from the street – it is located on Silvervine Ln (btw Fox Grape Ln and Sweet Spice Ct – it is now within the communities' common area, there is a three foot high metal fence, with gate surrounding it completely. The area seems to be well maintained.
From the tax maps, it is owned by the Greentree Village Community Assoc and I would expect they are the ones that do the maintenance. There are no signs identifying it and only two stone remain within the enclosure.
The cemetery is completely surrounded by a three foot high metal fence with a gate on the west side (towards the street). There are two stones remaining and both need attention – one is partly buried (or broken off) but readable while the other is completely unreadable – both are leaning against a tree.
This cemetery would make an easy scout / community project to 1) install signage; 2) maybe put in a bench within the enclosure; 3) properly place the two stones; 4) clean the one so maybe it could be read.
FX111 – KEENE FAMILY Lat, Lng: (38.7719116, -77.2585449)
Photos of Keene Family Cemetery