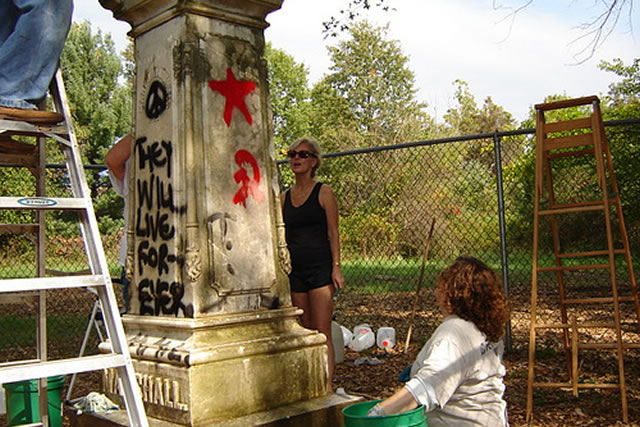 Burke Connection
ByDerek B. Johnson
Tuesday, August 26, 2008
When the Marshall family cemetery in Burke was vandalized last April, some residents blamed the sight line. The small plot had become overrun with brush and trees.
Hidden behind a wall adjacent to a 7-Eleven, the stone monument signifying the presence of the unmarked graves was virtually undetectable. That lack of visibility made it a prime spot for drinking, drug-use and, eventually, vandalism.
It was most likely a group of teens, said Lynne Garvey-Hodge Fairfax County History Commissioner for the Springfield District, that left beer bottles and trash all over grounds and spray painted messages like "They will live forever" over the stone marker. Those acts prompted Garvey-Hodge to create the Fairfax County Cemetery Preservation Organization and charge that organization with the mission of identifying, documenting, preserving and maintaining the more than 350 cemeteries within the county.
"Our plan is to get non-profit status and we just established a board of directors," said Garvey-Hodge about the organization that she co-founded with History Commissioner Mary Lipsey (Braddock).
Up first was the vandalized Marshall cemetery at the intersection of Burke and Burke Lake roads. On Saturday morning, Aug. 23, Garvey-Hodge and around 15 volunteers cleared brush and cut down trees to increase visibility of the monument, collected enough bottles, wrappers and garbage to fill almost a dozen black trash bags and laid down wood chips over the cleared surfaces.
The immediate plan is to fix up the surrounding area and clean the marker, which one member suggested they do with lots of nail polish remover. Long-term, the organization plans to transform the cemetery grounds into a park and memorial, installing benches and some signs indicating the site's historical significance.
"We may be back tomorrow. We're definitely coming back another day to clean the marker," said Lipsey.
The cleanup had some other notable volunteers. Glenn Curtis, owner of Marshall cemetery and a descendant of John and Mary Marshall was in attendance, as was Virginia State Del. Dave Marsden (D-41).
"You more or less expect it to happen," said Curtis of the vandalism.
Curtis, who owns just one of the handful of Marshall family cemeteries in the Burke and Lorton area, said he didn't think he could have done anything to stop the vandalism but regretted not visiting his ancestors' resting place more often.
"I'm sorry that I didn't spend more time down here checking up on it," he said.
Marsden said one of his constituents alerted him to the vandalism and from there he notified police. About one block away from the cemetery, he showed a tree-filled makeshift alley behind a shopping center with gang symbols spray painted between two parallel walls. It was here, Marsden said, that gang activity and drug paraphernalia became such a problem that police stepped up their patrols of the area. The area has been quieter since then, he said.
"To curb this kind of activity you need: A, a police presence, and B, you need to keep things fixed up. It's sort of like the 'broken windows' theory," he said.
The cemetery was a family plot started by John and Mary Marshall. John Marshall, the first postmaster of Burke in 1852, was part of a family that has had roots in the Burke area for over 150 years.
Keith Pearson, a relative of Curtis and the Marshall family, also took park in the cleanup. Pearson has a funny connection to the Marshall family. Back in the days leading up to Civil War, Pearson's great, great grandfather George Steele voted against Virginia's secession from the Union. When he did, he was told that he ought to have been shot for his decision. The man who told him that? John Marshall.
"I guess he was for the Confederates," said Pearson with a laugh.
Now, as a member of the Marshall family through marriage, Pearson spent the day clearing brush and dumping woodchips side by side with Curtis.
"It's been going on for 30 years," Pearson said of troublemakers using the site as a hang out. "Kids were always here drinking. They didn't mark the stone [until recently]."
Pat Edmiston, a Burke resident for 30 years, explained why she came out on a Saturday morning, coincidentally her birthday, to fix up Marshall cemetery.
"I've always had an interest in the history of this place," said Edmiston, of her Fairfax County home. "One of the connections to the past is our cemeteries."
Garvey-Hodge said the Fairfax County Cemetery Preservation Organization will not stop with Marshall. The group is planning on not only preserving the cemeteries located on the large, wall-sized map she had in her car, but also to identify and document the many unmarked ones hidden throughout the county. They are looking for more volunteers and have scheduled a Sept. 15 meeting at the West Springfield Government Center on Rolling Road.
Diana Taylor said she was on board with the organization's goals.
"I agree with their philosophy. We're losing too many cemeteries to abandonment, development or whatever," said Taylor, who is from Annandale. "We have to fight for them, this is our history. These people may not be as famous as George Washington or George Mason, but they walked the same earth."
Marsden said that the increased visibility from the street along with a few additional police patrols should make the site an undesirable location for vandals.
"Just making sure that things look cared-for, it tends to be ignored by people looking to do damage," he said.