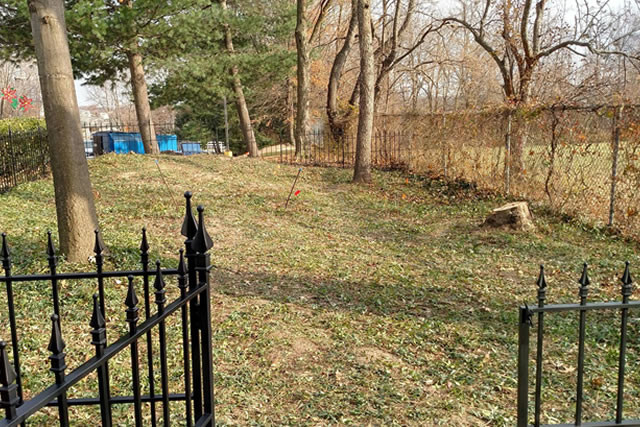 In the Spring of 2016, Ned Foster, with the help of the Fairfax County Cemetery Preservation Association and others listed below, began cleaning up and contemplating what had happened to this now forlorn cemetery. Eight to ten graves with headstones were once there, but now it was a shamble of vines, fallen trees, and trash. Worse, there were clear signs that some graves had been dug up.
A fuzzy 1937 aerial photo of this cemetery, which is in Centreville and now wedged between Pickwick Square and Mountain View High School near the US 29 and Pickwick Road intersection, shows a graveyard with about ten headstones. A survey done in 1987 by Carol Friedman and Carol Jordan notes with clear consternation that the cemetery had been destroyed. All of the headstones and an iron fence which were there a year earlier were gone. They did note that a "few older native markers remain". Then in 1994, it was observed that the iron fence had been replaced on three sides, with Mountain View High School's chain link fence serving as the southern border.
So what happened to the people who had been buried there? Who replaced the iron fence?
During a lengthy clean-up over several months, I worked and met with a number of very knowledgeable people. Don and Ruth Williams, Mary Lipsey, and a Rector family descendant, Virginia Weimer, all provided invaluable help. So did Rev. Carol Hancock and Juliette Faulding at St. John's Episcopal Church. A very experienced gravedigger named James Johnson also visited Rector and came up with a very plausible explanation for what happened.
Since there are about ten Rector family members buried at the nearby St. John's church and the latest one was buried in 1984, it seems likely that these folks were moved from Rector to St. John's. This may have been done about the time Enos Carl Rector was interred in St. John's in 1984. The gravedigger, James Johnson, says that this transfer was likely done by Everly Funeral Home in Fairfax, but I soon learned that their records were lost when they were purchased by another company. Mr. Johnson also explained that moving the remains of an old grave is not an exact science, and it is a certainty that there are still human remains in Rector. Moreover, the graves marked by at least five field stones ("native markers"), assuming they are graves, have not been disturbed.
It is clear that Rector is still hallowed ground even if all or most of the graves have been moved. I am pleased to report that it is now in reasonably good shape, cleaned up, and improved by a gate installed by Virginia Weimer. Mrs. Weimer also plans to put up some kind of cemetery marker and hire someone to keep the foliage under control. As of December 2017, Boy Scout Troop 577 sanded and painted the cast iron fence around the cemetery.
We still have no idea who put up the current iron fence. It may have been Everly, but we will probably never know for sure.