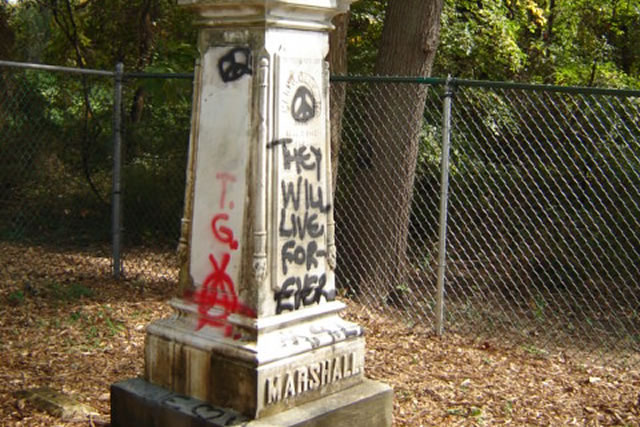 History Commissioners want to start watch group to protect historic cemeteries.
Burke Connection
By Amber Healy
Tuesday, April 29, 2008
The final resting-place of John and Mary Marshall is hidden from view, behind a broken fence and a land berm from the old Orange and Alexandria Railroad.
A tall, marble obelisk pays tribute to both Marshalls, honoring the first postmaster and general store owner of Burke and his wife, since their deaths in 1892 and 1877, respectively.
A poem written in Mary Marshall's honor is difficult to read now not because of weathering or age, but because of the bright red spray paint covering the century-old words.
"All this happened within the last two weeks," said Fairfax County History Commissioner Mary Lipsey, examining the stone, stepping over broken glass bottles on the ground.
Vandalism at small, private or forgotten cemeteries across the county is common, Lipsey said, but it should not be.
Lipsey and Lynne Garvey-Hodge, another member of the History Commission, are hoping to change that.
They want to start a program, similar to Neighborhood Watch, which would enlist the help of volunteers to monitor and check in on small cemeteries to make sure the final resting-places of Fairfax County residents are treated with respect.
JOHN MARSHALL owned a general store in Burke around the time of the Civil War, Lipsey said, at one time keeping his beehives on the second floor "so the Federals wouldn't get them." He also served as the first postmaster in the town.
The small parcel of land where he and his wife were laid to rest has become a littered ground of broken bottles, trash and vandalism, including swastikas spray-painted on nearby tree trunks.
Part of the reason the stones were vandalized is because it is hard to see them from the road, behind the small embankment, Lipsey said.
"When I first moved here in 1985, I used to drive past here all the time and I remember wondering who the stone was for," said Garvey-Hodge, a Clifton resident. "If we could remove the brush from the street side, I think that would deter the real inappropriate behavior going on here, and maybe we could get some more awareness of the stones and their history."
Fairfax County has over 350 cemeteries similar to this one, Garvey-Hodge said, overgrown, forgotten or lost to development over the years. Most people have probably never seen them or do not know they exist because they are not clearly marked.
Maintaining the cemeteries, most of which have only a few stones, could make a community service project for a church group or Eagle Scout, Lipsey and Garvey-Hodge said, if only people knew where they were located.
Glenn Curtis, whose grandfather was Marshall's nephew, owns the Marshall cemetery, but Curtis is not sure if he still technically owns the land.
"I believe you cannot sell property with a private cemetery on it unless you go through a whole lot of rigmarole," Curtis said. "You'd have to remove all the headstones and whatever is under the ground."
Curtis said he remembers going to the cemetery with his grandfather, mowing the grass and keeping the area clean.
"I haven't been there recently and I should have been," Curtis said. "If they get a program started, I'd like to be a part of it."
YEARS AGO, Curtis said a fresh food stand used to open near the cemetery each spring and summer, by a freshwater stream. Now the properties near the cemetery are filled with new homes and a park, but the area surrounding the cemetery is overgrown and filled with trash.
"There used to be a beautiful fence around the stone that we didn't put up, I thought it was a Boy Scout project but it was nice," Curtis said.
The Marshall cemetery is in the Springfield District, but Supervisor Pat Herrity (R-Springfield) said he has not received any calls about inappropriate behavior or vandalism there.
"I understand the Police Department here has received a call about that site," Herrity said. "Clearly, this is something we want to take seriously. Our graveyards are places we need to take care of."
Herrity said he would support a volunteer group aimed at protecting and maintaining small historic cemeteries.
"Especially if it's styled after Neighborhood Watch, those programs can be very effective," he said.