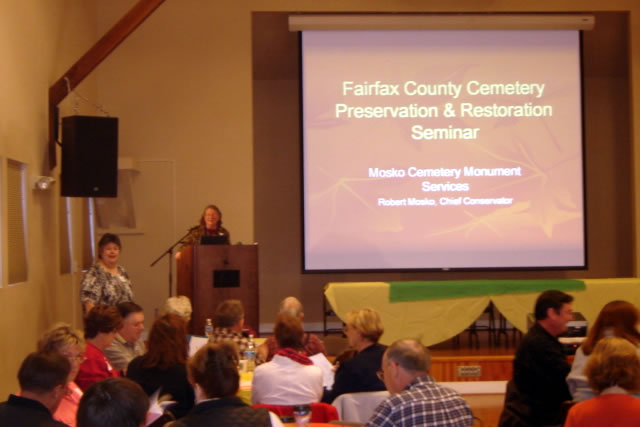 The FCCPA held a two day seminar October 23-24, 2010 at Frying Pan Farm Park and Frying Pan Baptist Meeting House Cemetery in Herndon, Virginia. Approximately 50 attended from throughout the Metropolitan Washington, DC area.
The seminar opened on Saturday with an address from Virginia Delegate Ken Plum, followed by a panel discussion of FCCPA members.
Mr. Robert Mosko of Mosko Cemetery Monument Services addressed the audience about the preservation of markers and cemeteries. Topics in his slide presentation included cleaning, resetting and restoring markers. Also discussed were a variety of problems one would encounter in cemeteries.
Historical Archaeologist Aimee Wells of the county's Cultural Resource Management and Protection team discussed funeral burial practices and the symbolism found on markers. At the end of the day, a walk-through of the Meeting Mouse cemetery occurred.

Photos of Seminar
Photos of Cemetery Walk-Through
On Sunday, Park Historian Yvonne Johnson discussed the history of the 1791 Frying Pan Baptist Meeting House and those who attended church there. Then Mr. Mosko demonstrated how to clean a marker. He also showed how deep one would have to excavate in order to reset a marker. At the end of the day, Ms. Johnson led a tour of the Frying Pan Spring and one of the baptismal ponds.
Photos of Marker Preservation Demonstration
Marshall Marker Test Cleaning. Mr. Mosko, using a new product, citrus paint remover, prepared a test case of the product on graffiti painted on the Marshall Family Cemetery marker. The product, which looks like putty, removes one layer of paint at a time and may require repeated treatments. For each application, after 24 hours, the putty is carefully scraped off and the treated area rinsed with water.