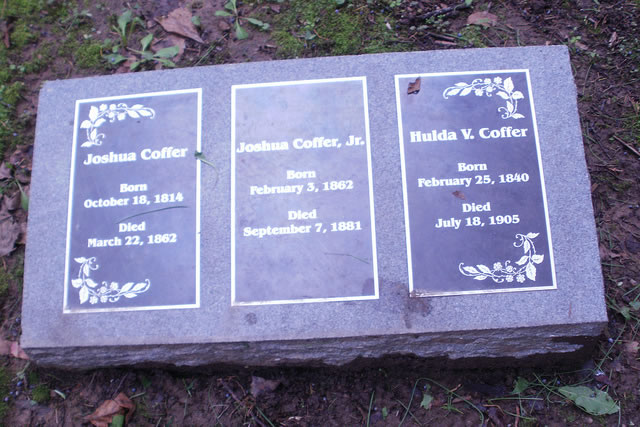 The Coffer Family Cemetery is located off of Woods Sorrel Lane in Burke, VA. The cemetery is in good condition and well maintained. The fenced cemetery is covered with moss. Headstones for Joshua Sr. and Jr., which have been broken and repaired, lie on the ground. A plaque, which is a new addition, recognizes husband and wife, Joshua and Huldah, and their son Joshua.
Joshua Coffer's family settled in the Burke area in the early 1700s. Their home, Locust Hill, is today owned by the Burke Centre Conservancy. Joshua (43) married Huldah Virginia Simpson (18) in 1857. On over 200 acres, he raised livestock and cultivated corn, hay, potatoes and oats. The 1860 slave census shows the Coffers had 5 slaves.
Joshua and Huldah's first child, Ella, was born in 1859. In 1862, Joshua (47) died in Richmond one month after the birth of his second child, Joshua Jr. Information could not be found as to why Joshua Sr. died in Richmond one year after the Civil War began.
Ella Ann Coffer (21) married Attorney Milton Dulaney Hall (29), born in Orange County, son of James and Hardenia Hall, on June 8, 1881. Milton Hall served as Fairfax County superintendent of schools from 1886 to 1929. Ella in 1908 committed suicide by throwing herself under a train in Burke. It is not known where she is buried. If she is buried with her parents, it most likely would be an unmarked grave, which was common when the death resulted from suicide.

Photos of Coffer Family Cemetery

County Survey Record