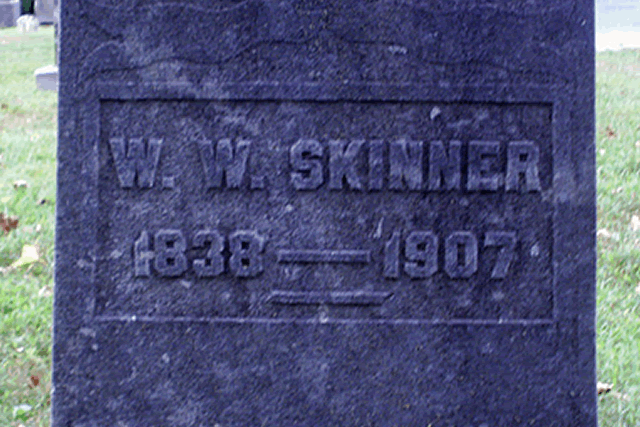 William Walter Skinner
Born 1838
Died May 21, 1907
Place of Birth: Washington County, VA
Place of Death: Washington, D.C.
Buried: Fairfax City Cemetery, Fairfax, VA
How died: Suicide
Military Service: Confederate Army
Military ranks held: Private
Units: 37th VA Infantry
Battles/engagements: Second Manassas, Chancellorsville, and Gettysburg
The 37th Virginia was organized in Washington County, Virginia, in May 1861, the same month that Walter Skinner enlisted. The 37th Virginia Infantry was involved in several conflicts from the Seven Days' Battle to Appomattox. The battles included Second Manassas, Chancellorsville, and Gettysburg. Prior to enlisting, Skinner was employed as a Deputy Sheriff of Washington County, Virginia. He married Gertrude Graham in Fairfax County on October 10, 1860.
After the Civil War, Private Skinner worked at the U. S. Bureau of Printing and Engraving. The 1880 census lists seven children from age 11 months to 18 years old. He died at the age of 69 in May 1907 from an apparent suicide. In 1908, his widow applied for and was granted an annual pension of $25.
William Walter Skinner's tombstone has an inscription which reads, "Stonewall's Band". This reference may be to the "Stonewall Brigade Band", which is still in existence today. If Private Skinner were in the Brigade Band, it would have been likely that his membership occurred after the war. The original members present during the Civil War were from Staunton Virginia, home of Stonewall Jackson.
Sources:
1. Brothers and Cousins: Confederate Soldiers and Sailors of Fairfax County, VA, compiled by William Page Johnson, II
2. Website Ancestry.com
3. The Stonewall Brigade Band, Marshall M. Brice, McClure Print. Co., 1967
Larger image of marker
Researched and written by Ruth Williams