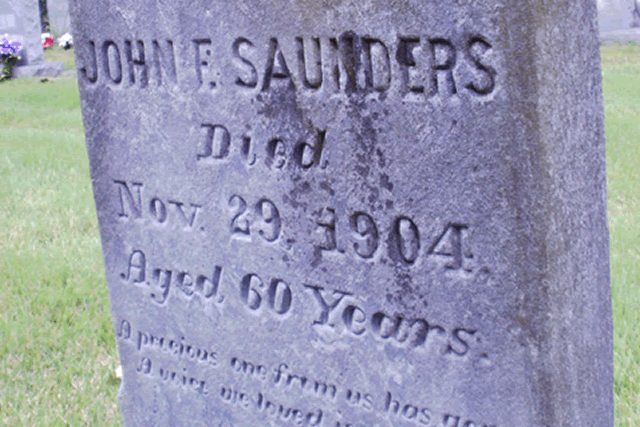 John Franklin Saunders
Born 1842
Died November 29, 1904
Place of Birth: VA
Place of Death: VA
Buried: Vale Methodist Church Cemetery, Oakton (formerly known as Vale), VA
How died: Unknown
Military Service: Confederate Army
Military ranks held: Private
Units: Company G, 8th VA Infantry
Battles/engagements: Unknown
John Saunders enlisted in the Confederate Army after being promised by Dr. William B. Day that Mr. Saunders would receive a uniform. The actual date and place of enlistment is unknown.
Dr. William B. Day of Dranesville, VA was a rabid secessionist with a goal of persuading all eligible southern men to join the army and to destroy the Union Army. In 1861, Dr. Day, along with several other men, was charged with attacking four union soldiers, killing two of them, then stripping and leaving them for hogs to eat.
It is not clear from the available records in what battles Private Saunders may have fought. It is known that were several times that Private Saunders was found to be absent without leave. From one account:
"Formerly belongs to the VA (Reb) Infty, and deserted Dec 1862. Has been in the employment of the Govt working on R roads until … 2, 1863 when he went to his home (Dranesville, VA) where he was arrested. Claims he is loyal and has taken the oath twice."
John Franklin Saunders married three times and had 12 children. He died at the age of 60 on November 29, 1904 and is buried in the Vale Methodist Church Cemetery in what is now Oakton, VA.
Sources:
1. Brothers and Cousins: Confederate Soldiers and Sailors of Fairfax County, VA, compiled by William Page Johnson, II
2. Website ancestry.com
3. Website Great Falls Historical Society, article "Dr. William B. Day – Civil War Papers"

Larger image of marker
Researched and written by Ruth Williams