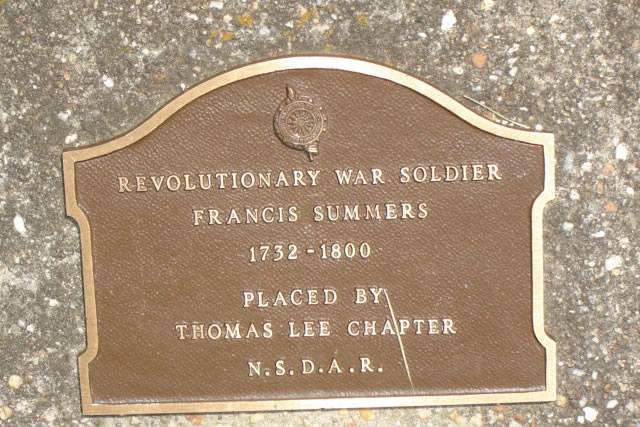 This cemetery in the Lincolnia suburb is surrounded by homes. Due to recent construction a metal fence was placed around the cemetery and some markers were temporarily removed by the Fairfax County Park Authority for safe keeping. The Park Authority mows the cemetery. A dead tree is dropping limbs and, if the tree falls, it could possibly damage grave stones. There are several families represented in the cemetery: Summers, Cowling, Crump, Duty, Haring and Lee. John Summers and his son, Francis, who served in the Revolutionary War, are buried here.
Thomas and John Cowling and their wives emigrated from England prior to 1844. John, who became a naturalized citizen in 1846, was a blacksmith, and Thomas, a farmer, was admitted as a citizen in 1844. Stephen Cowling, a farmer, also emigrated from England and came to Fairfax County in 1830. John Cowling, who served as Justice of the County Court and Conductor of the Election in 1859, voted for secession. After the Civil War in a Southern Claim, Stephen Cowling stated that during General Sherman's grand review," Gen. Gibbs' Division has his tents in my yard." Surveyors are unsure of the relationship between these Cowlings. In 1860, John Cowling was 59, Thomas was 60, and Stephen was 35.
The surveyors found no information about the Charles Duty family. They could be neighbors and/or relatives. Tragedy struck the family eight times with the deaths of their children. Their ages at death ranged from four days old to two years. The mother Ida, who died in 1918 was possibly a victim of the Spanish flu.
The Crump family were farmers and owned around 270 acres. They raised livestock and grew Indian corn, oats, wheat, rye, peas, beans, and Irish potatoes.