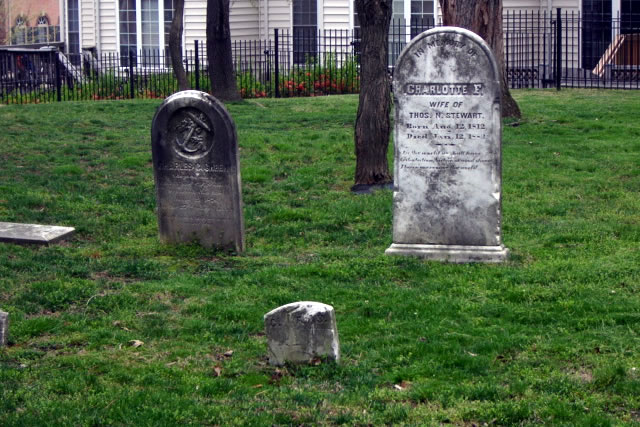 The Stewart Family Cemetery is located on the common ground of the Stone Creek Crossing town homes. It is well maintained by the townhouse management. The fence is locked, which discourages visitors. A slave cemetery is reported to be located outside of the fence.
It is believed that, after the 1862 Battle of Chantilly during the Civil War, casualties from both sides were temporarily buried in the cemetery. There appear to be unmarked graves in the cemetery. Because the cemetery is locked surveyors found it difficult to adequately see and record information from the gravestones. The fenced area is much larger than the known graves.
Thomas N. Stewart and his wife Charlotte owned almost 400 acres. On the eve of the Civil War, they owned four slaves and had one building for them. In a deposition after the war, Thomas Stewart stated that he had been pressured to vote for secession. He told the commissioner: "I do it against my better judgment and with more reluctance than I ever cast a vote in my life." He stated that after the Battle of Bull Run, Union General Schenck of Ohio used the Stewart home as his headquarters and that Thomas Stewart had been captured by South Carolinian Confederates and held for seven months.
Gilson Rozier (G.R.) and his wife Sarah Stewart Whaley were farmers. They owned a little over two hundred acres and owned one female slave age, 75. G.R. voted for secession. However, after the Civil War he described his wife Sarah as a Union sympathizer. The surveyors could not find any information about Charles C. Gheen.